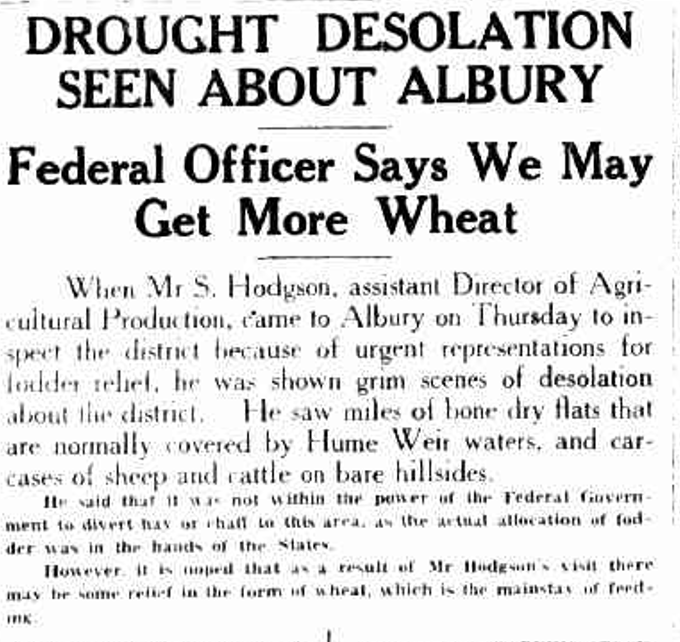 Border Morning Mail. 26 May 1945, 8.
Transcript: DROUGHT DESOLATION SEEN ABOUT ALBURY. Federal Officer Says We May Get More Wheat. When Mr S. Hodgson, assistant Director of Agricultural Production, came to Albury on Thursday to inspect the district because of urgent representations for fodder relief, he was shown grim scenes of desolation about the district. He saw miles of bone dry flats that are normally covered by Hume Weir waters, and carcases of sheep and cattle on bare hillsides. He said that it was not within the power of the Federal Government to divert hay or chaff to this area, as the actual allocation of fodder was in the hands of the States. However, it is hoped that as a result of Mr Hodgson's visit there may be some relief in the form of wheat, which is the mainstay of feed-mix.
Story:
During 1938 the Albury district saw very much below average rainfall. A La Niña in 1939 brought much needed soaking rains that restored water levels and again allayed fears of drought. However, a succession of drier than usual years continued during the early 1940s, depleting groundwater reserves and breaking up fragile topsoils which transported tons of dust from the Mallee and Western Districts eastward over the Riverina. By 1945, wartime restrictions and water shortages meant that the New Year celebrations in Albury were especially dry as three hotels were reported to have run low on beer during the holiday season. As the extract from the Border Morning Mail (above) shows, the Hume Dam, which had previously been celebrated for its ability to protect the region against drought was reported with some alarm to be completely "bone dry". Other reports described the state of the dam as it became dry for the first time since construction began in 1919 and submerged trees became visible. In many areas water took on an unpleasant taste and had to be boiled before drinking. The drought had also brought about other unusual occurrences. Groups of kangaroos and emus began moving into the Murray River districts from the north-western Riverina in search of food and water.